What is Digital Onboarding?
Digital onboarding is a process that allows businesses to verify the identity of their customers, employees, or subscribers digitally. This is accomplished through digital channels such as online forms, electronic signatures, biometric checks, and other methods of identity verification. Switching from a manual to a digital onboarding process saves you and your customers valuable time by providing an identity verification process for businesses, but it is also important for companies and organizations such as banks that must adhere to KYC and AML standards. The 2022 Report found that 68% of consumers abandoned an app last year having said that, there are good digital onboarding solutions available to help streamline the process while ensuring regulatory compliance.
Almost all data can be retrieved from local databases, depending on the country. In Singapore, for example, Myinfo gives users access to useful information about their properties, cars, driving licenses, and even their financial status. This means that the customer does not need to submit as many documents, which saves time and money.
The General Data Protection Regulation (GDPR) and Anti-Money Laundering (AML) are the regulatory frameworks in Europe for customer identification during the digital onboarding process.
Types of Digital Onboarding
There are several options for getting into digital marketing to meet each company's needs.
Manual Process
Allow KYC officers and customers to finish the onboarding process at their leisure. Customers provide information online, which can later be verified.
Automated Process
It is as simple as taking a picture. For a quick and easy customer experience, a photo of the user and their document is captured and taken to the system.
Assisted Process
A remote method that keeps you in touch with your clients. Allow the system to verify your customer in a live video call with KYC agent verification. The customer only needs to show their document to the camera for capture.
The NFC-based Digital Onboarding Process
An online process that supports real-time data via the latest NFC technology. One of the most secure authentication methods available today, anyone with an NFC-enabled smartphone can use it.
There are types of digital onboarding, depending on the kind of technology, the level of security, and the regulations for each process and sector:
Face matching between the identity document and the selfie is used for identity verification.
Video conferencing is used to verify identity.
Unattended video identity verification is required.
Biometric technology, such as passive liveness detection, has evolved into a critical tool of digital onboarding in the fight against fraud.
Biometric authentication is a novel approach to enhancing user experience and system security during digital onboarding.
Artificial intelligence (AI) and machine learning (ML) have received much attention. These technologies are simply revolutionary in terms of digital onboarding.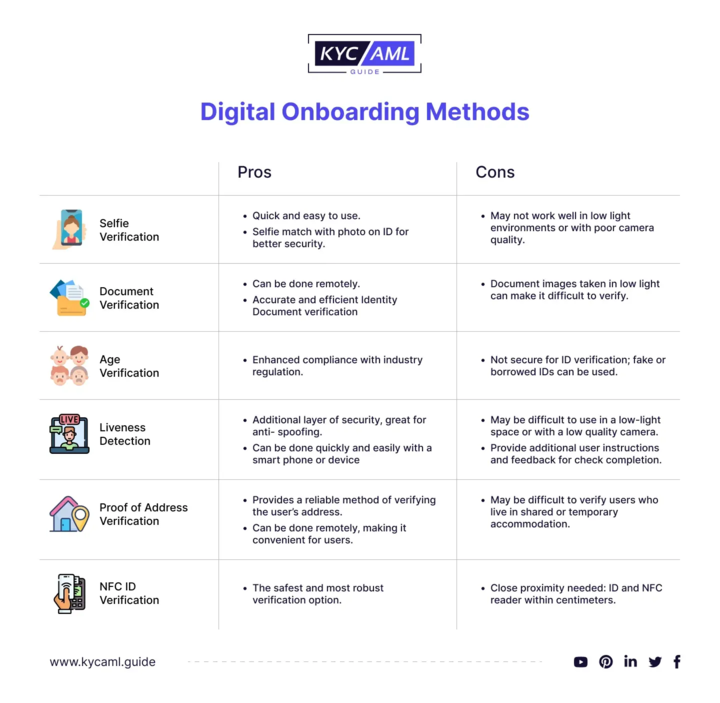 KYC Onboarding
KYC onboarding is a critical component of digital onboarding, ensuring that businesses know and trust their customers. Document verification and biometrics are examples of such checks. With the introduction of digital onboarding, eKYC procedures can now be completed online. Uploading documents for AI verification, taking a selfie or live video for facial biometric matching, sanctions screening, AML name screening, adverse media, and PEP screening are just a few examples.
The Onfido Real Identity platform, for example, provides businesses with digital integration solutions that are tailored to their specific requirements. They provide over 2,000 IDs in 195 countries worldwide.
How Does It Work?
Now that you understand what digital onboarding is, let's get into the specifics of how it works.
Sign up
A crucial step in the digital onboarding process is user enrollment and registration. It's the equivalent of knocking on the door and introducing yourself before welcoming into your new home. Consumers provide basic information such as their name, email address, phone number, and address during this process. It takes a few minutes as compared to 60 minutes at traditional banks. This information starts the Know Your Customer (KYC) process, in which organizations collect customer data for final verification.
Document verification
In the digital age, the user must electronically submit an identity document, such as a government-issued ID card or payment, as part of the KYC process. Consider this process to be similar to issuing credentials at a company reception or hotel check-in. To ensure that these documents are authentic, tamper-proof, and authentic, unique technologies ranging from optical character recognition (OCR) to artificial intelligence are used. The KYC rule necessitates document verification to confirm the user's authenticity and prevent identity theft.
Identity verification
Identity verification and a strong KYC process are required for a smooth digital onboarding experience. Identity verification is the final step in the validation process. Organizations immediately confirm the user's identity using various identity verification tools provided by the KYC law, such as biometric verification, comparing selfies with ID pictures, or asking security questions.
For some services, the verification process can be even more stringent, including additional AML watchlist checks. Banks, for example, frequently have access to government-backed databases as well as a dedicated department that checks user profiles. The account is only created if everything is in order.
What users are doing?
What going on?

Take a picture of their ID.

Take a selfie

The app recognizes the document type and country of origin automatically.
All text data is recognized and extracted.
All data is read and validated, including data encoded in machine-readable zones, barcodes, and RFID chips.
Checks the data from all sources to ensure its accuracy.
Performs a liveness check
A face match is carried out.
The Challenges of Digital Onboarding
Data protection is always an issue when it comes to digital onboarding, Consumers want the convenience of digital platforms, but they are becoming more aware of how their data is being used. Companies must tread a fine line between providing personalized services and violating data protection laws. To meet digital onboarding checks, fraudsters will:
Forging identification documents (using Photoshop or other editing software) use stolen, phishing, or darknet market user information in the form of "fullz" – packets containing someone's name, address, and credit card number
Synthetic identity fraud attacks use a combination of real and fake data.
Fraudsters frequently use the identity information of deceased people, as well as children, who have positive credit by default.
The increasing popularity of AI-based technologies such as deepfake raises new concerns about the utility of ID-based authentication.
Kraken Security Labs, for example, has demonstrated that anyone's fingerprint can be faked for less than $5 simply by taking a close-up photo of their fingers.
The Benefits of Digital Onboarding
According to the Salesforce Future of Financial Services survey, 78% of bank customers begin their relationship with the bank through a website or app. There are numerous additional advantages to using digital onboarding methods over traditional methods.
Digital onboarding enables the use of several automated features that expedite Know Your Customer (KYC), Know Your Business (KYB), and Anti-Money Laundering (AML) checks.
Process automation creates more systematic processes that result in fewer errors for compliance; errors detected during the entry process are flagged immediately, rather than waiting for the team to manually review the form. DBS, a major Singapore bank, automatically approves 98% of new customers.
Digital onboarding is more efficient and convenient for the customer. They can open an account from anywhere, including their own home, and new technologies and AI-powered identity verification solutions can complete the process in seconds.
Passive signals such as geographic location, device integrity, IP address, and other fraud detectors can be checked.
It is both time and cost-effective. According to a study by the consulting firm Oliver Wyman, it costs only $30 to onboard a new customer using digital tools, as opposed to $150 in a traditional bank.
Remote customer onboarding has been shown to attract and retain customers. N26, a German mobile bank that operates throughout Europe, has created a 100% mobile account-opening process that can be completed in a matter of minutes.
Conclusion
Finally, digital onboarding has emerged as a revolution in the financial sector, transitioning from a human process in which a customer must visit the office for an employee to verify their identity (for various procedures such as opening an account) to a 100% digital process. Digital identity verification is the way of the future for customer onboarding. The digital revolution will shape the future of the metaverse through digital onboarding. Gartner predicts that by 2026, 25% of people will have spent at least one hour in the Metaverse for shopping, work, entertainment, or education.
Visit the KYC AML guide and consult for additional expert guidance on integrating digitally and ensuring KYC AML compliance. These resources can provide detailed insights and practical solutions for improving your digital onboarding processes while remaining compliant.