List of Financial Crime Movies and TV Series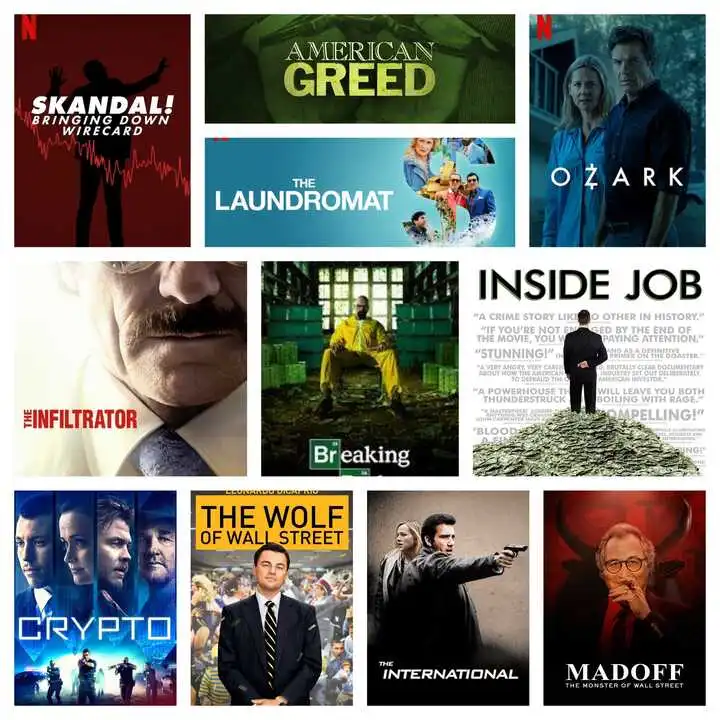 Madoff: The Monster of Wall Street (Documentary, 2023)
It is a riveting four-part Netflix documentary series about financial fraud. It delves into the riveting saga of Bernie Madoff, the mastermind behind one of the most colossal Ponzi schemes in Wall Street history, defrauding investors of a staggering $64 billion. The documentary, which uses authentic footage and compelling interviews with investigators, employees, and whistleblowers, paints a vivid portrait of Madoff as an unrelenting and unapologetic 'financial serial killer.'
Scandal! Bringing Down Wirecard (Netflix Documentary, 2022)
It is a documentary that does an excellent job of making the world of financial transactions and technology come to life on the big screen. It is based on the findings of a Financial Times investigation into the demise of German payment company Wirecard. Based on a book by FT journalist Dan McCrum, the documentary takes us on an exciting journey of how he was involved in exposing the Wirecard scandal, featuring various figures from the media sector and money.
Crypto (Movie, 2019)
Crypto," directed by John Stalberg Jr., is a 2019 American financial crime movie that follows the journey of a young Wall Street anti-money laundering (AML) analyst who is demoted and sent back to his hometown. He has no idea that his return will set off a chain of events that will lead to the discovery of a multi-million dollar money laundering scheme. He delves deep into the investigation of this intricate web of corruption and fraud, all set against the backdrop of Upstate New York, with the help of a childhood friend. However, as he seeks the truth, he soon realizes that his personal life and business career are on the verge of collapsing.
If you are interested in spinning a tale of intrigue and deception in the digital age then watch "Crypto" to delve into the mysterious worlds of cryptocurrency and cybercrime.
The Laundromat (Movie, 2019)
It is a financial crime movie, a money laundering show. The Panama Papers scandal, which exposed the world of offshore tax and money laundering, is the subject of this dark film starring Meryl Streep and Gary Oldman.
The financial fraud movie highlights how the wealthy and powerful use offshore accounts and shell companies to evade taxes, embezzle funds, and engage in illicit financial activities, often at the expense of the general public, through interconnected stories and a darkly comedic narrative. It is a satirical yet thought-provoking exploration of the moral and ethical issues surrounding financial crimes, shedding light on the real-world ramifications of such illegal practices and their impact on society.
Ozark (TV series, 2017-2022)
The Netflix financial fraud series "Ozark"  carries audiences to a world of money laundering and danger as a financial planner relocates his family to the Ozarks, where he becomes entangled in a web of criminal activity.
The main character, played by Jason Bateman, is a financial planner who relocates his family to the Ozarks after a financial plan goes bankrupt. The concept of money laundering is central to the series, as Marty is coerced into assisting a dangerous Mexican drug cartel in laundering drug proceeds through legitimate businesses, particularly a riverboat casino. The series expertly explores the complexities of financial fraud, demonstrating how seemingly respectable people can become involved in criminal activities, leading to a high-stakes game of deception, danger, and survival.
The Infiltrator (Movie, 2016)
Directed by Brad Furman, takes you on a thrilling journey through the dark and treacherous world of money laundering and drug trafficking. At its heart is Bryan Cranston's outstanding performance as Robert Mazur, a dedicated US customs officer determined to expose a widespread money laundering scheme led by none other than Colombian drug lord Pablo Escobar.
"The Infiltrator" is an enthralling, non-stop journey into the complexities of the Secret Service and the toll it exacts on those who walk the razor's edge between justice and justice. True and perilous. Bryan Cranston's acting, combined with the complex plot, keeps you on the edge of your seat from beginning to end, making this a must-see for crime and comedy fans alike.
The Wolf of Wall Street (Movie, 2013)
Based on Jordan Belfort's true story, this financial crime movie immerses you in the world of stockbrokers involved in securities fraud and extortion.
The performance of Leonardo DiCaprio as Jordan Belfort is very entertaining. The film depicts his meteoric rise from a lowly businessman to a wealthy and corrupt man. Belfort's financial crimes frequently involved the fraudulent sale of low-priced goods, as well as the use of high-profile business methods and wasteful redemption schemes to defraud investors. The film does not hold back in depicting the heinous and immoral lifestyle promoted by these ill-gotten gains, which include partying, extravagant spending, and drug use. However, it also emphasizes law enforcement's pursuit of justice and Belfort's subsequent failure. "The Wolf of Wall Street" is a scathing critique of excesses and unethical practices in the financial world.
The International (Movie, 2009)
The International" is primarily a thriller and action film, it explores financial crime as a central plot element, making it an appealing film for those interested in the intersection of finance and crime in cinema.
The plot revolves around an Interpol agent (Clive Owen) and a Manhattan district attorney (Naomi Watts) who are investigating a powerful and corrupt international bank. As they dig deeper into the case, they discover a web of conspiracy, money laundering, and illegal arms trade. The film delves into the shadowy world of the global banking system, shedding light on how financial institutions can serve as vehicles for corrupt practices.
Breaking Bad (TV series, 2008-2013)
Breaking Bad" is a series about money laundering white-collar crimes that follows the transformation of a high school chemistry teacher into a meth-making genius. Money laundering occurs as Walter arranges businesses to support his illegal income while concealing his wealth in a car wash and -burial money. The program also investigates the economic motivations for their actions, demonstrating the enormous profits in the pharmaceutical industry. Turf wars, power struggles, and drug dealer fights highlight the complexities of money and the dangers of the criminal world, making Breaking Bad" a fascinating look at the underbelly of society.
It takes viewers to the morally ambiguous world of a high school chemistry teacher turned methamphetamine kingpin.
Inside Job (Documentary, 2008)
Inside Job provides a comprehensive examination of the 2008 global financial crisis, a cataclysmic event that caused over $20 trillion in damage, resulting in widespread job and home losses in the most severe economic downturn since the Great Depression and nearly triggering a global financial disaster. The documentary follows the rise of an unscrupulous industry that has tainted the realms of politics, oversight, and educational institutions, based on extensive research and in-depth interviews with influential figures in finance, politics, journalism, and academia. This razor-sharp film was painstakingly crafted through on-location research in the United States, Iceland, England, France, Singapore, and China.
American Greed (TV series, 2007-2023)
If you enjoy stories about financial fraud, "American Greed" is a TV show that looks into various financial crimes, revealing the dark side of wealth and ambition. Each episode depicts the lives of individuals who succumb to the allure of great wealth through deception, exposing evil ambition and greed. This series provides a detailed look at the complex strategies used by criminals to mislead investors and amass ill-gotten wealth, ranging from Ponzi schemes and corporate fraud to detailed investment fraud.
American Greed" not only depicts the process of financial fraud, but it also investigates the devastating impact on victims and the pursuit of justice by law enforcement officials. It serves as a cautionary tale, demonstrating how individuals can be duped by the promise of wealth and the high cost of financial insecurity.
Conclusion
These films have shed light on the murky world of finance, demonstrating the consequences of financial wrongdoing and the unwavering pursuit of justice. Despite the drama and suspense, one important lesson stands out: the critical importance of KYC (Know Your Customer) and AML (Anti-Money Laundering) guidelines.
So if you're looking for financial crime movies like money laundering shows, or corporate corruption, these films and TV shows have something for you. So get your popcorn, sit back, and prepare to be enthralled by the high-stakes world of financial crime.